What is eskUelA Learning Management System?
eskUelA is branded as University of Antique's kasUbAy Learning Management System. It is a tool that allows students and teachers to access learning resources online. Moreover it allows them to learn and study, perform activities, communicate, submit outputs, socialize and interact online.
It gives the students and teachers to finish courses both in teaching and learning at their convenience and personalized pacing. This is possible because eskUelA provides flexibility that users can access all materials and perform activities both online and offline, synchronous and asynchronous. To ensure the app's reliability, it is maintained and updated by UA LMS Team with backed up by 24/7 support directly from Moodle HQ and its regional partner in Southeast Asia.
Please click the button below to go to the eskUelA LMS website.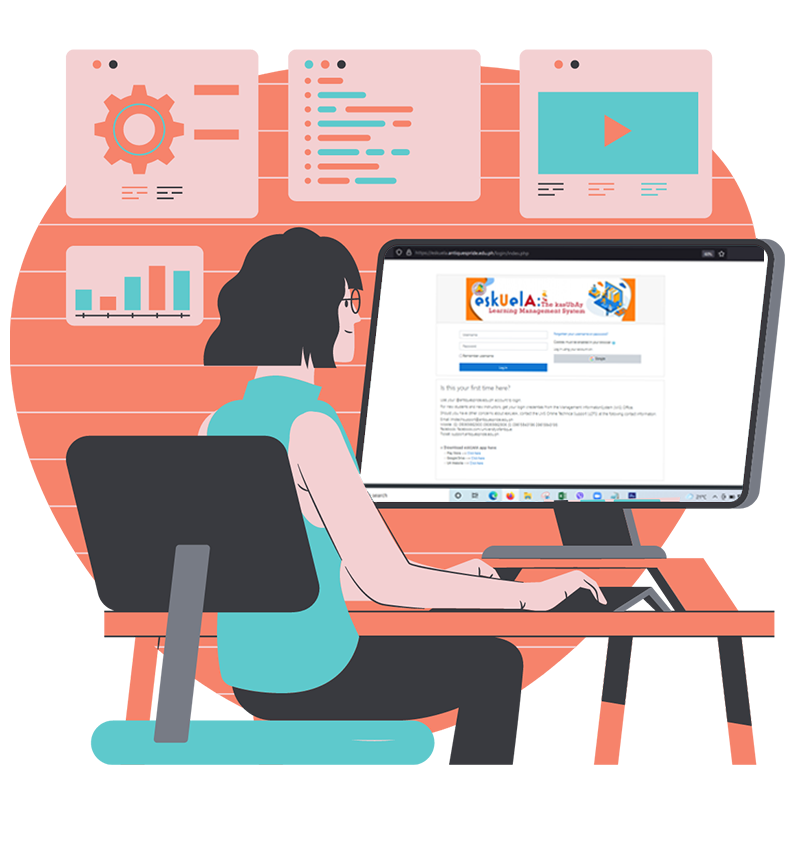 What can you do in the eskUelA LMS?
1. Access course pages and learning materials
2. Update Profile
3. Communicate with instructors
4. Discuss with instructors and classmates
5. Take tests
6. View Scores
7. Submit requirements
8. Monitor progress
9. Attend classes
10. Organize schedules
How to Access the eskUelA LMS?
1. Log-in using username and password to be emailed by UA LMS Team
2. Once logged in, the dashboard shows all course pages of subjects enrolled in
3. See course announcements, communicate with the instructor, view the course packs
4. Start remote learning!
For questions on the eskUelA LMS, please click here.
Download eskUelA app here:
What Student Are Saying about eskUelA LMS

"Ang nabulig gid kang LMS sa pag eskwela ko kaja nga pandemya is, as a working student, kapot ko ang oras ko anytime anywhere pwede ko ma answeran ang mga activities.
Pwede ko ka answer kang exams kag in case madura ang internet connection sa balay pwede ako kaadto sa iba nga lugar kag pwede ko obrahon ang mga activities nga gin tugro kang amon mga instructors"
___
Francine Elaine Emar, 4th year BS InfoTech student

"Bahol gid ang nabulig kanakon kang eskuela app, when it comes to delivering quizzes and activities and also, it is easy to access in the sense mabuksan mo tana offline kag wara ako nabudlayan since student-friendly man ang app"
—
Ma. Ellenor Loquinerio, Bachelor of Physical Education (BPED) student

"The app is easy and convenient to use. But my only problem is, the 1st and 2nd Sem subjects are mixed altogether🥺. It should be separated on different category or it should be sorted properly. This is my POV in courses ctgry: When I am looking for my 2nd Sem subjects, some of it are in the the bottom, considering it is confusing to read all subjects' by names, it made my eyes hurt. Thanks hope you understand what I mean and give update to this concern. But so far this app performs amazing ❤️😘"
—
James Baryl Garcelo